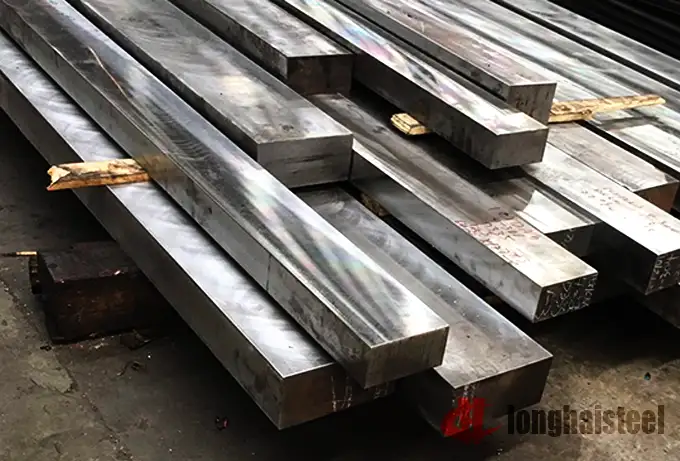 1.4962, X12CrNiWTiB16-13
1.4962, X12CrNiWTiB16-13 Stainless steel is an Austenitic Stainless Steel, Creep resisting steels, Nickel and Cobalt Alloys acc. to Alstom NB 00144, EN 10302, EN 10088-1, GE St17-13W.
Physical Properties
Stocks
Heat Treatment
Thermal Properties
Welding
Machining
Similar or equivalents steel grade
What is 1.4962, X12CrNiWTiB16-13 grade steel?
1.4962 austenitic stainless steel, X12CrNiWTiB16-13 has good thermoplasticity due to good chemical balance of its elements, mainly used in turbine blades, gas turbines and heat-resistant products, containing W and Ti, tungsten improves its creep strength and high temperature machinery Properties, titanium is a very strong carbide former, it precipitates carbides at higher temperatures than chromium carbides form, so there is no carbon available to react with chromium.
The 1.4962 is suitable for high temperature assemblies and is selected in soldering processes and applications where intermittent heating up to 850 C° may occur. This material can be supplied in the annealed or hardened condition, resulting from warm working, but in the annealed condition its creep properties are lower than those in the strain hardened condition, and this difference is at lower temperatures than in the more pronounced at higher temperatures.
Ge Power grade: X10CrNiW17-13-3
Smelting method: EAF+LF+VD+ESR
Chemical Composition
Grade
Chemical composition WT %
C
Si
Mn
Ni
P
S
Cr
W
Ti
B
1.4962, X12CrNiWTiB16-13
0.07 - 0.15
max 0.5
max 1.5
12.5 - 14.5
max 0.035
max 0.015
15.5 - 17.5
2.5 - 3
0.4 - 0.7
0.0015 - 0.006
GE NB 00145
0.08-0.15
max 0.8
max 1.0
13-16
max 0.045
max 0.03
15.5-18
2.5-4.0
4xC-1.0


GE NB 00144, X10CrNiW17-13-3, St T17/13W
0.08-0.15
max 0.8
max 1.0
13-14.5
max. 0.035
max. 0.005
15.5-17.5
2.5-3
5xC%-0.85
max. 0.0060
Mechanical Properties
1.4962 Mechanical properties acc. to EN 10302
+AT

Tensile strength KSI(MPa): 500-750
Yield Strength 0.02%, Offset KSI(MPa): Min 230
A %: Min 30

+WW (warm worked)

Tensile strength KSI(MPa): 590-790
Yield Strength 0.02%, Offset KSI(MPa): Min 440
A %: Min 20
St17-13W Mechanical properties acc. to NB 00145
Room

Tensile strength KSI(MPa): 440-650
Yield Strength 0.02%, Offset KSI(MPa): Min 590
A %: Min 20
Z %: Min 50
Akv J Min: 70
HB: Max 240

High temperature 600°C

Tensile strength KSI(MPa): 544
Yield Strength 0.02%, Offset KSI(MPa): 482
A %: 17
Z %: 39
Creep rupture: 600°C/312MPa, >1000h
X10CrNiW17-13-3, St T17/13W Mechanical properties acc. to GE NB 00144
Mechanical property requirements at 23°C ± 5°C

Tensile strength MPa: min 590
Yield Strength 0.02%, Offset MPa: 440-650
Elongation on 5.65√So (A) min 20
Notch impact strength (KV-ISO) min 70 J
Brinell hardness: 180 to 240 HBW